14 Mar 2022
We're living in a technology world!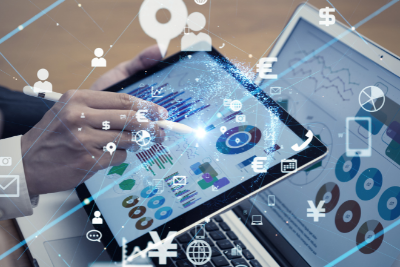 Among the brand-new features at the Dental Technology Showcase (DTS) 2022 will be the Digital Dentistry Acceleration Forum. This exciting theatre will provide a programme dedicated to all things digital, giving individuals and organisations a unique opportunity to come together to discuss the latest concepts, innovations and challenges in the field. There will be highly interactive sessions, as well as seminars delivered by an array of professionals leading the way in digital workflows for the advancement of dentistry as a whole.
Dr Douglas Watt, partner at Euston Place Dental Practice, will be presenting "An overview of digital workflows in general practice" as part of the new Digital Dentistry Acceleration Forum. About his session he says:
"I think digital dentistry is important to get involved with now as it's no longer 'the future' of dentistry but a current reality that improves outcomes for both patients and the dental team.
"I hope that delegates attending my session will gain an understanding of how accessible and feasible digital dentistry is for daily workflows. I also hope delegates will take away some new knowledge of digital workflows and how these can be utilised in all areas of dentistry.
"I would encourage people to attend my session and the event in order to see what is possible with current technologies in dentistry and how these can make your working day easier and more enjoyable!"
There are many ways in which dental technicians can utilise technological solutions to optimise their services, regardless of their area of expertise, experience or special interests. In some cases, it might also be beneficial to outsource certain services so you can extend your offerings to clients and patients.
Béatrice Robichaud –­ Co-Founder and VP of Marketing & Customer Experience at Panthera Dental – will be one of several highly-esteemed speakers in the DTS Lecture Theatre at DTS 2022, presenting "Masters of Milling". She comments:
"Milling centres are everywhere and they offer many types of products. However, no one has the chance to truly understand if a milling partner is really offering the best outcome for their business, their clients and their patients.
"The objective of my lectures is to give attendees tools to think by themselves and come to their own conclusions about the milling centres they work with. I hope they gain skills and confidence to effectively assess if a milling centre is responsible and uses the best equipment for the best outcomes, and make sure they get good value for their money.
"This is my first time at the show and I aim to bring something never before heard or seen. I also always try to create fun and interactive content that delegates will remember and talk about once out of the lecture."
There will be all this and so much more at DTS this May. Several other highly-esteemed speakers, including Dr Gulshan Murgai, Stefan Goniszewski, David Claridge, Vanik Kaufmann-Jinoian, James Green and others will be presenting inspiring sessions. Topics will be diverse and expansive, catering to the needs and interests of all dental technicians, clinical dental technicians and lab owners.
To see all the speakers and sessions confirmed so far, or to register yourself and your colleagues for a free delegate pass, visit the website today!
The Dental Technology Showcase (DTS) 2022 will be held on Friday 13th and Saturday 14th May, Birmingham NEC, co-located with the British Dental Conference & Dentistry Show.
For more information email dts@closerstillmedia.com