29 Oct 2021
Reunite and Rebuild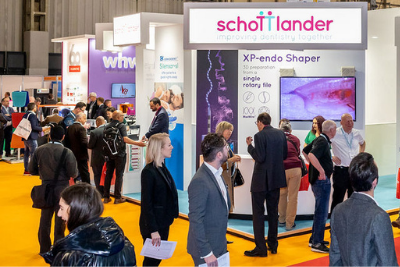 Throughout the pandemic everyone has experienced isolation and a breakdown in community. Not only on a personal level but also in the workplace. Of course, many companies moved to working online but this can only have so much of an impact when it comes to feeling part of a community and working collaboratively.
Effects of Lockdown on Dentistry and the Community
Over the last couple of years dental services have been severely limited due to restrictions, however, the public and patients have also been unsure about what services were available. Some have even been unwilling or unable to access the oral health care that has been on offer. An investigation by the Oral Health Foundation showed that 55% of British adults feel they have neglected their oral health during lockdown and 19% say they haven't brushed their teeth twice daily, while 20% are now eating unhealthier than before. This suggests that the general oral health of the population is going to be in decline post pandemic, but dentists are still playing catchup.
While, of course, the public have been affected by the unforeseen circumstances so have dentists, their practices, and in turn dental technicians. The financial impact on practices and professionals has been severe 80% of dental business owners reporting a decrease in income in October 2020. As well as this, the impact on dental technicians could have possibly been greater financially as laboratories have "been in a delicate state for a number of years" due to changes in the NHS framework and also the perception that technicians are external to the dental team; this has led to fundamental investment being dismissed by the Department of Health.v The consequences of the last two years have impacted everyone in many ways but dental technicians are still alive and kicking and the demand for their service still exists. So why not come together with the rest of the community? The Dental Technology Showcase 2022 is going to rejuvenate your connectiveness to the community, educate you on the latest technology, and provide top tips on how best to use it from talks by expert speakers.
Benefits of Working Together
As the pandemic forced many to stay at home on furlough or work from home, and while many became comfortable with this way of life, getting back to the laboratory comes with many benefits that the community thrives within.
There are benefits to working as a team. Teamwork fosters creativity and learning as people can brainstorm ideas with one another as they need to and this prevents stale ideas or viewpoints. People can combine their unique concepts and come up with something extraordinary, plus teamwork maximises shared knowledge. It also allows people to blend their strengths by building on the talents of one another, promoting a wider sense of ownership. Working together is also known to improve productivity within a culture of getting things done as well as boosting employee morale because as humans are social creatures we are wired to feel and work better in a team rather than alone.
As well as benefits in the culture of teamwork, dental technicians are part of a profession that is constantly learning and developing the technology they use and the way they work. Collaborative learning as a technique is known to be a promising mode of human interaction since becoming a 21st century trend. It develops a social support system, learning communities, and promotes critical thinking skills. Therefore, the chance to attend an event in which the community is reunited and able to engage in learning collaboratively is a great opportunity after being kept apart for so long.
The Dental Technology Showcase 2022 is where dental technicians can thrive on collaboration. Come together with colleagues from across the nation and enjoy a community that strives to protect the future of the profession. The Dental Technology Showcase will be a platform for positive growth and change with a number of significant changes to ensure that the show represents and aids in overcoming challenges in the industry. As well as boosting the interaction between lab owners and exhibitors in order to foster an environment of collaboration, growth and expansion.
In summary, the isolating restrictions that people have had to endure throughout the pandemic have impacted all areas of the profession and dental technicians are not to be forgotten in this. The impact of coming together again and enhancing one another's knowledge and expertise can only be positive.