25 Jan 2023
Registration is live!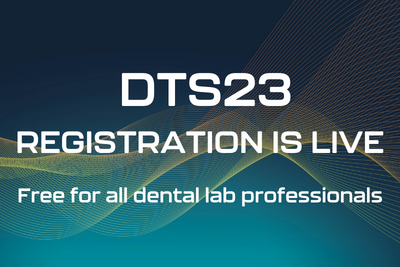 DTS is back for 2023 – registration is officially open for the Dental Technology Showcase (DTS) 2023. It's quick and easy to secure your place online, and it's still completely free for all members of the dental team to attend.
DTS 2023 at a glance:
1,500+ visitors to ensure plenty of networking opportunities
80+ exhibitors demonstrating cutting-edge products, materials and technologies
50+ speakers delivering world-class information, advice and inspiration
40+ hours of content covering a broad range of topics for the entire lab team
Among the theatres you can look forward to will be:
DTS Lecture Theatre
Supported and programmed by the Dental Laboratories Association (DLA), this theatre will cover a comprehensive range of topics to guide and inspire all members of the lab team. Sessions will explore the latest techniques, materials and business management concepts, with a wealth of advice shared by industry-leading speakers.
Digital Dentistry Theatre
This will be an exciting platform for manufacturers, suppliers, developers and users of digital technologies to discuss equipment, challenges and opportunities in the field. In particular, sessions will consider how individuals and teams might make the most of key features for maximum benefits in the laboratory.
OTA Seminars & Den-Tech Forum
This programme has been crafted with orthodontic dental technicians in mind. Lectures will be presented by highly-respected names in the field, who will discuss interesting points and provide plenty of food for thought.
An interactive event
In addition to the hours of CPD-accredited education, DTS 2023 will also be the perfect place to engage with the wider profession. Not only will more than 1,500 dental technicians, clinical dental technicians and lab owners be in attendance to interact with, but there will be thousands of dentists in the co-located BDCDS as well. Whether you wish to connect with like-minded colleagues, find new business, or strengthen relationships with suppliers or existing clients, DTS 2023 is the place for you.