02 Feb 2022
Leadership in the dental lab of today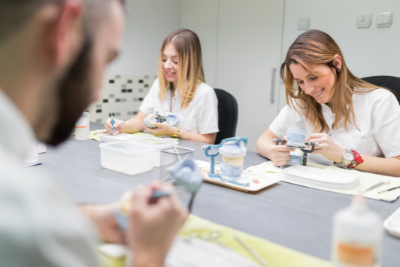 In any industry or workplace, it is crucial for the team to work together effectively if they are to optimise the quality of products and services delivered, alongside enhancing efficiency and job satisfaction. In the dental laboratory, collaboration and communication between team members can have a significant impact on everything from precision of restorations or devices fabricated to turnaround times and client happiness – all of which influence the long-term stability of the business. But how does teamwork make the dream work? Creating a culture for co-operation starts at the top, meaning that effective leadership is vital.
What makes an effective leader?
Leadership is about much more than simply telling others what to do and delegating tasks. It is about getting involved, motivating individuals and helping everyone work towards a common goal for the benefit of clients, patients and the business.
There are many qualities to effective leadership, including:
Good communication
A leader must be able to communicate clearly with their team, to share the vision of the business and engage with everyone. This is important not only for ensuring the lab's culture and ethos are fulfilled, but also for encouraging individuals to discuss their own ideas or concerns.
Empathy
Good communication is a two-way street, so listening to what team members have to say and understanding their situation is important to foster good working relationships. This is particularly important at a time when so many people and their families have been impacted by Covid.
Positivity
The past couple of years have really put this to the test, but being positive in the workplace is crucial for team morale. Happier employees are not only more productivity but also more likely to go the extra mile for clients and to stay with the business for longer.
Confidence
To support the team and manage the business, leaders need to have confidence in their own skills and conviction in their decisions. This is also vital for inspiring others and encouraging everyone to take pride in their work.
Responsibility and humility
Being accountable for their work and for their team's performance shows that a leader is working with them and not against them. Similarly, humility and modesty prevent arrogance and makes a leader more approachable and relatable.
Improving leadership skills
The importance of a good leader has never been greater in dentistry than it is right now. Many dental lab teams have been pushed to the limit with ever-changing social restrictions, growing demands on their time and maybe even job instability. Providing strong leadership can aid staff retention and one study suggested it could more than double business income.
Whether you are a lab owner, a senior member of the team or aspiring to lead a lab team in the future, there are several things you can do to improve your leadership skills. For example, there are various training courses available to meet any budget and needs, which can offer some practical guidance on how to manage the team and create a positive and productive working environment. Make sure you are confident with your technical skills and that you have sufficient experience with the technology and materials in the lab so you can support others. It's just as helpful to reflect on your leadership methods to see if there are any ways in which you could better handle situations or help colleagues more effectively.
There are several recognised leadership styles and considering which you use and which might be useful to implement could prove advantageous for your team and your laboratory. From an authoritarian to participative, delegative, transactional and transformational approach, utilising traits of several leadership styles can often be most effective in the dental lab.
If you'd like to know about how you could improve leadership for your business, or to seek recommended training courses in the area, don't miss the Dental Technology Showcase (DTS) 2022. The lab-dedicated event offers two days of education and inspiration, helping all members of the dental lab team to enhance both their hard and soft skills for the development of their careers and their laboratories. The trade floor will also be a great place to find further training and to network with peers from across the profession for significant added value.
Leading the way for a brighter future
There's no getting away from the challenges that dental technicians and lab owners have faced and continue to face in the UK. The need for effective leadership has never been greater in order to support the team and guide them in meeting the evolving needs of dentists and their patients. Only by continuing to work together can lab teams secure the future of their laboratories and their careers.