15 Mar 2022
Everybody's welcome!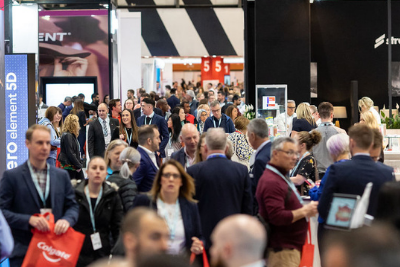 DTS always welcomes a broad range of individuals, businesses and organisations, which is partly what makes it such a dynamic event with a real buzz in the air. This year, it will be no different, with delegates coming from all corners of the profession to enjoy the eclectic speaker line-up and the diverse array of exhibitors on the trade floor.
Only with the support and contribution of the industry has DTS become what it is today. As such, we are very thankful at CloserStill Media to be able to sustain such strong relationships with a wide range of professional lab associations, societies and media organisations.
For our 2022 event, we are delighted to welcome back several professional bodies who have attended in previous years also. Among these will be the Dental Technologists Association (DTA).
The DTA is a professional body for trainee or qualified dental technologists, who provide members with the tools needed to stay educated, compliant and in touch with what is going on in dental technology and the wider dental arena. About the organisation's attendance at DTS 2022, Deputy President Mr Delroy Reeves, comments:
"During the two years of Covid so far, DTA has been sowing the seeds of hope for the dawn of a new world of dental technology. Our office remained open throughout this time, giving members guidance and reassurance – we were there to listen to their worries and fears and offer support wherever we could.
"DTA is now planning for the growth of the profession, which begins at DTS in the spring. At the event, we will showcase our bold and inclusive professional dental technology organisation. We will share our aims and values, show how we represent our membership base and encourage new members to join us and be the decision-makers of the future."
To ensure an accurate representation of the profession and to give both delegates and exhibitors maximum opportunity to network and build alliances, the show welcomes various media organisations as well. The Dental Technologies Magazine will be on the floor sharing issues and connecting with the profession, and Poppy Stoddart, Editor of Dental Technologies Magazine, says:
"After a two-year break we're looking forward to being back at DTS: I have enjoyed the previous DTS shows, and find that they're a great way for us to meet with subscribers, chat with old friends and make new contacts. We've been busy rebranding the journal, and we hope delegates will appreciate our new style and logo. Drop by stand G10 at DTS to meet the team, browse our magazines and see what special offers we have in store for you this year!"
After many months spent apart, DTS 2022 will provide the perfect opportunity for the dental lab community to come together once again. It will be a chance to re-engage with your professional associations and media providers and start re-building relationships that could serve you well long into the future. In addition to those mentioned, you can also liaise with the Dental Laboratories Association (DLA), the Orthodontic Technicians' Association (OTA), various charities and other organisations on hand too.
In fact, everybody and anybody with a link to the dental technology profession are invited for DTS 2022 and we can't wait to finally get together again. Registration is free – secure your place online today!
The next Dental Technology Showcase (DTS) will be held on Friday 13th and Saturday 14th May 2022, Birmingham NEC, co-located with the British Dental Conference & Dentistry Show.
For more information email dts@closerstillmedia.com