DTS is back!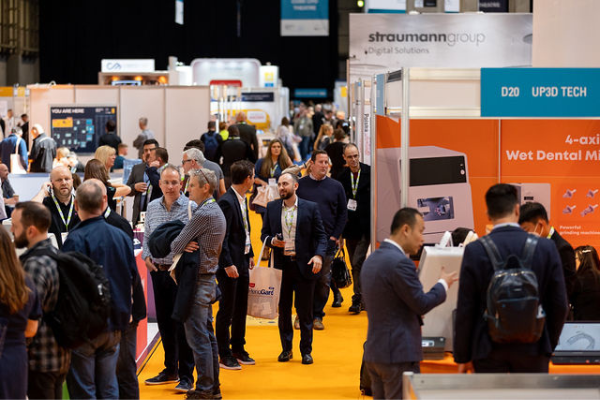 For the dental laboratory team, staying up-to-date with the latest products, skills and technologies in the profession is a must. Though made more difficult in recent years for obvious reasons, the benefits of face-to-face learning and interaction are multiple for technicians and lab owners looking to enhance and broaden their capabilities for career progression and business growth. The Dental Technology Showcase (DTS) 2022 provided an excellent opportunity to review best practice, share experiences and gain fresh ideas for the development of lab services through face-to-face interactions.
In the DTS Lecture Theatre, delegates were able to join an array of sessions looking at everything from milling processes to mental health in the lab, educational pathways and anterior dental morphology.
Davide Accetto's session on "Digital Dentures – Are they ready?" was particularly well received, providing a realistic and honest review of modern technologies and how the digital denture workflow can be utilised in the laboratory. Davide covered how digital solutions can benefit communication between the dental team and with patients, highlighting the benefits of standardisation that come with digitising the denture manufacturing process. Advocating for digital in terms of cost, customisation and longevity, Davide made a strong case for the readiness of today's digital dentistry for denture fabrication.
Delegate Daniel Cascella, CDT at Tauris Dental Prosthetics, said:
"Davide's session was very informative for the future. There has been a good range of speakers and subjects and we have visited several stands – we're interested in 3D printing for dentures. I would recommend DTS to others."
Another highly popular lecture was given by Dr Gulshan Murgai, who discussed "Vita – Chairside and lab digital dentistry solutions", sharing his own journey and motivations to change his workflow. Highlighting the importance of support and training for the dental team when introducing these technologies, he showed how digital dentistry can be used to make your dental business stand out. Attendee, Lisa Perchal, ceramist at Evolution Dental Studio, commented:
"This was very informative, introducing new materials in the CAD world of digital dentistry."
Brand new for 2022 was the Digital Dentistry Acceleration Forum, which put an even brighter spotlight on digital technologies and workflows. This highly focused programme enabled technicians to take a closer look at some of the challenges and solutions within the field.
Doug Watt, for example, kicked off the programme with a session about the digital workflow in general and how to successfully implement milling and 3D printing technologies for the best results. Sharing his experience at the show, he commented:
"Really good show, very busy and great to get to back and see people again."
Later sessions covered how to build a digital lab and sell it, 3D printing protocols and more. It was well supported by the trade exhibition just outside, where delegates could seek bespoke information and advice from product experts to further understand how they could make digital work for them.
The OTA Seminars provided a third source of education for DTS delegates, delivered in collaboration with the Orthodontic Technicians' Association (OTA). Speakers engaged with delegates to discuss quality assessment of orthodontic appliances, prosthetic rehabilitation of head and neck cancer patients, snoring and sleep apnoea devices and more.
There was also an enlightening session about "Mental health wellness in dentistry", delivered by dental technician, Sarah Davies-Hibbert. Sarah encouraged delegates to take time for themselves and detailed how they should use this time to actively address their anxieties before the stress becomes too much. She even included a moment of reflection there and then for individuals to consider their own situations and think about what they could do to better support their mental wellbeing.
Throughout the two days, delegates, speakers and trade representatives had the opportunity to connect with others from the profession. Just as important as learning, networking with friends and colleagues is integral to everything from skill development to career progression. Being able to catch up with peers in-person was clearly appreciated by all in attendance – plus visiting lab teams had some time together away from the business for team building opportunities as well.
General delegate feedback for DTS 2022 included Ashley Doran, dental technician from Peter Gange Crown & Bridge Specialist Ltd, who said:
"There was plenty variety of stalls and products/services. Overall well-planned with lots of information and services to browse."
O. De-Ath, lab manager at Broadgate Dental, added:
"There was a great variety of trade and a great lecture programme, plus it was very well organised. It was good to connect with colleagues."
With the return of in-person events, we have all been reminded of the value and power of face-to-face interaction. DTS may be over for another year, but the connections made, and lessons learnt will remain important for individuals for many months to come.