20 Jan 2023
Building the next generation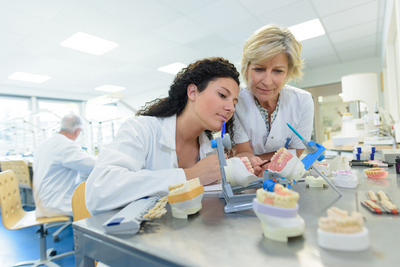 Recruitment difficulties have created challenges for dental labs across the UK over the past few years. For many businesses, it has become essential to look for new employees via as many different avenues as possible. As we celebrate National Apprenticeship Week at this time of year (6-12th February), this could be an opportunity to consider taking on an apprentice.
The Apprenticeship training course for dental technicians is a 36-month programme that results in a level 5 qualification, equivalent to a higher national diploma (HND). The apprentice will learn an array of skills necessary to work as a dental technician today, including everything that relates to the design, manufacture, assessment, repair, modification and provision of biomechanically sound, custom-made dental devices.
There is government funding available for all apprenticeship training, which can help businesses maintain income until the individual is up-to-scratch with the basic techniques and workflows.
In fact, there are many benefits available to dental labs that consider offering an apprenticeship scheme:
Apprentices learn on the job – everything they learn is immediately applicable to real-life situations, which means that they develop practical experience quickly.
A new recruitment pool opens up – with more potential people to bring into the lab, this widens the recruitment pool and improves diversity in the laboratory, as well as also across the profession as a whole.
It gives young people the chance to earn while they learn – university and academic study is not the ideal pathway for everyone. Apprenticeships give those who might be more practically minded an opportunity to develop in an environment that better suits them.
You can mould individuals according to your business, so they become fantastic members of your team once they are qualified.
There is government funding available for all businesses with fewer than 50 employees – which likely applies to most dental labs in the UK.
For any lab owners interested in joining the apprenticeship scheme, more information can be found online. There may also be colleagues who have already been involved with or have experiences regarding Dental Technician Apprenticeships, who you can liaise with at DTS 202. Getting first-hand experiences from those with further insight into how the programme works could be hugely beneficial in deciding whether this is the right choice for your business.
However you decide to support your recruitment, finding and keeping a good team remains essential for all UK dental laboratories.