14 Mar 2022
A programme for all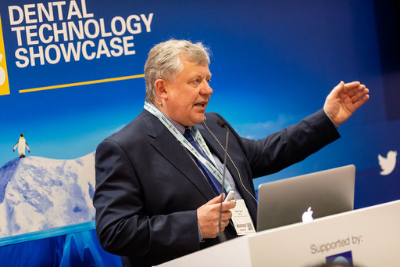 The programme for DTS 2022 will offer an exciting assortment of technical expertise, business intelligence and market insights. There will be something for every member of the lab team, with a combination of lectures, interactive sessions, hands-on workshops and product demonstrations to educate, entertain and delight.
In the DTS Lecture Theatre, delegates have the opportunity to broaden their knowledge in a range of topics from milling to product development and how to achieve aesthetics by introducing an intraoral scanner into the workflow with clients.
Also in the DTS Lecture Theatre will be Dr Gulshan Murgai, presenting a session entitled "Vita – chairside and lab digital dentistry solutions". During his lecture, he will review the development of CAD/CAM technologies and the benefits available to today's dental team, about which he says:
"Digital dentistry has been around for 30 years and yet the uptake in the UK is only around 10%. Patients are missing out and UK dental professionals are getting left behind by the rest of the world who have adopted this technology in much higher numbers.
"During my session, the knowledge I impart will be from my day-to-day practice and so it will be the kind of data that can be acted upon by all colleagues if they choose to. I hope to help delegates make the decision as to whether they should be utilising more digital dentistry. My session will open delegates' minds to digital dentistry both at lab and clinical levels."
Commenting on why he would recommend DTS and the co-located British Dental Conference and Dentistry Show (BDCDS), Gulshan adds:
"It's great that the event is free to attend. There will be a great mix of clinical and technical colleagues in attendance and so I would encourage dentists to come along with their technicians for the best experience."
Also speaking in the DTS Lecture Theatre will be Dr Grzegorz Wasiluk, discussing "How to plan predictable and safe implant reconstructions, based on CAD/CAM technology". He comments:
"The main topics I will focus on are the potential complications that can occur with implant-retained prosthetics. I will explore the available pathways to help professionals avoid these problems, discussing the benefits of custom-fabricated implant components. The session will look at how to determine the right treatment plan that will minimise the risks of complications due to patient habits or implant positioning. It will also cover new types of removable solutions that provide a great alternative to fixed implant bridges, as well as the advantages of individualised implant and prosthetic components for a wide range of cases.
"As more and more dental implants have been placed every year, we have seen a corresponding increase in the number of complications experienced. It is important that dental professionals are aware of the different treatment options that are available for both fixed and removable implant reconstructions in order to provide each patient with the best treatment that will minimise possible complications. Some of the alternatives to conventional treatment protocols may help to overcome difficulties with implant positioning, as well as mechanical and biological issues. In this way, cutting-edge processes with CAD/CAM technologies could redefine the way the dental team approach cases of implant rehabilitation."
Alongside the DTS Lecture Theatre and NEW for 2022 will be the Digital Dentistry Acceleration Forum. This will be an ideal place for delegates to seek out the latest information, news and developments in the digital dental arena. Leading providers and product developers in the field will lead discussions and invite experts from across the industry to share their insights and achievements to date to create a very interesting exchange.
In addition, the CDT Conference and OTA Seminars will be returning for another year, delivering content designed specifically for clinical dental technicians and orthodontic technicians looking to advance their skills.
Some of the amazing feedback received from DTS delegates in previous years includes:
"Lots of interesting lectures and speakers and a great display of innovative technology." – Lean Rose, dental technician
"Very well put together with subjects that cover a variety of topics." – Kelsey, orthodontic dental technician
Have you registered for the DTS 2022 yet?
The Dental Technology Showcase (DTS) 2022 will be held on Friday 13th and Saturday 14th May, Birmingham NEC, co-located with the British Dental Conference & Dentistry Show.
For more information email dts@closerstillmedia.com